Biography of Jyotirindra Bodhipriya Larma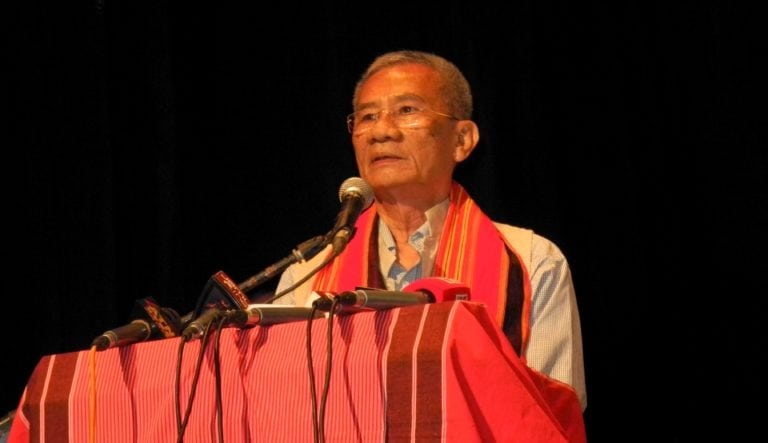 1. Name: Jyotirindra Bodhipriya Larma
2. Nick Name : Santu
3. Father's Name : Chitta Kishore Chakma
4. Mother's Name : Subhashini Dewan
5. Spouse's Name : Shipra Dewan
6. Date of Birth : 14 February 1944
7. Place of Birth : Mahapuram village, Burighat Mouza, Naniarchar upazila, Rangamati Hill District, Chittagong Hill Tracts, Bangladesh
8. Married: 2 March 1964
9. Brothers & Sisters: 1) Ms. Jyotiprava Larma (elder sister)
2) Mr. Subhendu Prabas Larma (elder brother)
3) Mr. Manabendra Narayan Larma (immediate elder brother)
10. Educational Life : a) Primary education: Mahapuram Junior High School
b) Matriculation: Rangamati Government High School in 1959
c) Intermediate: Sir Ashutosh College in 1961
d) Graduation: Comilla Victoria College in 1963
e) Post Graduation: Dhaka University in Bangla Literature in 1965
11. Working Life: a) Teacher in Maischari Junior High School, Guimara Junior High School and Dighinala High School from 1966-74
b) Formed CHT Jumma Teachers' Association and worked as its President
12. Political Life : • Involved political activities since student life in nineteen sixties;
• Played leading role in the Hill Students' Association in early nineteen sixties;
• Joined in East Pakistan Student Union in 1961;
•Formed CHT Welfare Association (a quasi-political organization) in 1966;
• Played vital role as Convenor of CHT Election Organizing Committee in 1970;
• One of founding leaders of Parbatya Chattagram Jana Samhati Samiti (PCJSS) formed in 1972 and played leading role to organize movement for rights to self-determination in CHT;
• Arrested from Kukichara under Panchai upazila in Khagrachari district on 17 September 1975;
• Got release without condition on 22 January 1980;
• Took charge of executive President of PCJSS in 1980;
• Took charge as the President of PCJSS in 1983;
• Led the PCJSS delegation for negotiation with the Government of Bangladesh to find solution to the CHT problem by peaceful and political means since 1992;
• One of the signatory of CHT Accord signed between Government of Bangladesh and the PCJSS on behalf of inhabitants of the CHT and PCJSS as well in 1997;
• Assumed responsibility as the Chairman of the CHT Regional Council, apex body of CHT special administrative system on 12 May 1999;
• Re-elected as President of PCJSS in its consecutive National Conference held in 1990, 1995, 1999 and 2002 respectively;
• Formed Bangladesh Adivasi Forum, a national organization of indigenous peoples of Bangladesh in 2000 and acting as its President.
13. Position Holding: • President, Parbatya Chattagram Jana Samhati Samiti (PCJSS) (Chittagong Hill Tracts United Peoples' Party)
• Chairman, Chittagong Hill Tracts Regional Council
• President, Bangaldesh Adivasi Forum (Bangladesh Indigenous Peoples Forum)
• Member, CHT Accord Implementation Monitoring Committee.